Headteacher's Welcome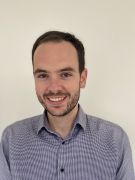 Welcome to William Morris Primary School. I am incredibly proud to be the Headteacher at William Morris. Our school is truly unique, and I have had the privilege of being part of this community for seven years now. I started as a teacher and later took on a leadership role, which allowed me to develop a deep understanding of each and every child in our school.
We take immense pride in our "Outstanding" rating from OFSTED. However, we are more than just a grade; we are a close-knit community comprising remarkable children, dedicated and talented staff, and supportive parents. At William Morris, we never rest on our laurels. We are committed to continuous improvement in all aspects of our educational offerings, always placing the well-being and development of our children at the forefront of our decision-making process.
William Morris is a vibrant and inclusive school where learning never stops. Our primary goal is to provide the best possible education for our children, valuing academic, creative, sporting, social, and personal development equally. We believe that children thrive when they engage in enjoyable and relevant activities, with the encouragement, support, and appropriate challenges they need. Our ultimate aim is to cultivate enthusiastic, independent, and lifelong learners by fostering positive attitudes towards education.
One of the remarkable features of our school is the respect our students demonstrate toward one another and the adults in the school. Our close-knit community allows us to know every child on a personal level, and we are genuinely dedicated to supporting and nurturing them in every way possible.
In recent times, our school has undergone a significant transformation. We've added a brand-new KS2 extension and completely redesigned the internal layout of the original building. As a result, we now boast a bright, airy, and modern learning environment that perfectly suits the needs of our children.
I look forward to sharing the journey of learning and growth with your child at William Morris Primary School.
Warm regards,
Alastair Johns
Headteacher