Head of School's Welcome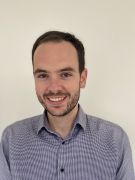 Welcome to William Morris Primary school. I am so proud to be Head of School at William Morris. It is a school like no other! I have been at William Morris for six years now, working first as a teacher before moving into the leadership of the school and as a result, I feel I know all of the children really well.
We are immensely proud of our Outstanding grading given to us by OFSTED in September of 2018. We are more than a grade however, we are a community of wonderful children, dedicated and talented staff and supportive parents. We never sit back and relax as a school, we are constantly striving to be better in everything we do and ensure we put the children at the forefront of all our decisions.
William Morris is a bright, busy, welcoming school where there is always lots going on. We aim to provide the best possible education for our children and value academic, creative, sporting, social and personal development equally highly. We believe that children learn best when they experience enjoyable, relevant activities and where they are encouraged, supported and appropriately challenged. We aim to enable our children to become enthusiastic, independent, life-long learners by helping them to develop positive attitudes to learning.
One of the first things you will notice about our school is the respect shown by our children to each other and to the adults in the school. The school has a close-knit feel about it; we are a small enough school that all the teachers and members of staff know all the children really well and genuinely seek to support them and nurture them in every way possible.
Yours sincerely
Alastair Johns
Head of School